Well...It seems AC member Chris Medlin has either been removed or resigned from the Southern AC with the vote on Striped Mullet status quo (no action) prompting the move. It seems Chris was more than unhappy about being disenfranchised from the process...so much that he walked out of the meeting.
Chris called the AC process under current leadership, what I have personally called it in the past- an illusion of public participation, a dog and pony show game of smoke and mirrors .
The ACs have a predetermined vote through a majority hand selected by senior DMF staff to drive their commercial bias supporting continued harvest versus sustainable management.
I been told that Chris may have let his frustration drive him to make comments and take action that were seen as "unprofessional" by staff and therefore required his removal. Resigned or removed it doesn't matter. The result is the same.
The AC process is a failure under current DMF staff and Commission leadership- well past time for change. Hopefully soon.
Pam Morris is the Vice-Chair of the Southern AC, listen to Pam's comments on red drum-
How can any member of an AC charged with meeting the Mission statement of the Commission publically state that red drum is a "scourge".
Note- That's Chris Medlin heard in the audio challenging Morris' comment.
...and then you have Ken Seigler who sits on the Finfish AC and posts all over the internet under the alias Buddy Roe.
How does Ken stay on an AC with the following public displays against citizens supporting sustainable fisheries management-
Supporting threats of violence
Making unfounded and false accusations again a sitting MFC member-
Supports over-harvest of red drum "once he's dipped in oil and hits the plate, he can't eat no more crab"
Doesn't mind challenging a CCA member on a public form with profanity-

Certainly didn't mind disparaging the Governor or the Governor's Marine Fisheries Policy Paper-
...and last and certainly least, either doesn't mind intentionally sharing false information or doesn't have the sense to understand the difference ...probably both-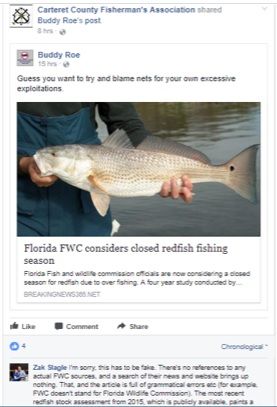 It was a fake story on a website that describes itself as, "An entertainment website, news created by users. These are humorous news, fantasy, fictional, that should not be seriously taken or as a source of information."
Please...the DMF can do better than "Buddy Roe" (Ken Seigler) and should have a long time ago. People like Ken sitting on ACs promotes zero public confidence in the process.



Edited by Rick - 23 July 2018 at 2:52pm