I have a report for you and it's probably the best fishing report that I've given in years.
Left the dock at 11:30 Saturday morning with my wife and youngest son who was home on pass for a four day weekend from training at Ft. Bragg. Headed to the Cape for some sun and fun. Chairs on the beach, umbrella up, cold ones on ice, a little Buffet on the Bluetooth speaker, a good cigar. Son was snorkeling the drop-off for conch shells that make mama happy.
Young kid (Will) comes by with a spinning rod and Gotha plug to fish the tip, all by himself. He hooks up. Before his dad came to join him, I spent a little time watching that nine year old kid catch Spanish and blues, and helping him unhook and release them. He was reeling against the drag and occasionally needed a little help getting the line twist out. A lot of the Spanish hits came within ten feet of the bank as we watched the plug coming through the clear water. After dad had his finger gashed by a wayward tooth, I helped release a few more.
Will had the enthusiasm that just makes you realize why we all fight so hard trying to help preserve what we have left and rebuild what we've lost.
I asked Will's father if he was aware or following any fisheries issues. No. He was a diver before kids and had been involved with diving issues. I made the comment that the way his son Will obviously loved to fish, that if he could find time, to please get involved. He was aware of the Raleigh Saltwater Fishing Club but said getting away on a Tuesday night, even once per month, was difficult. I suggested he join the CCA.
Please get involved or be left with lizard fish, sea robins and oyster toads.
As stocks of spot plummeted they came after your sheepshead and black drum.
Now they want your bluefish-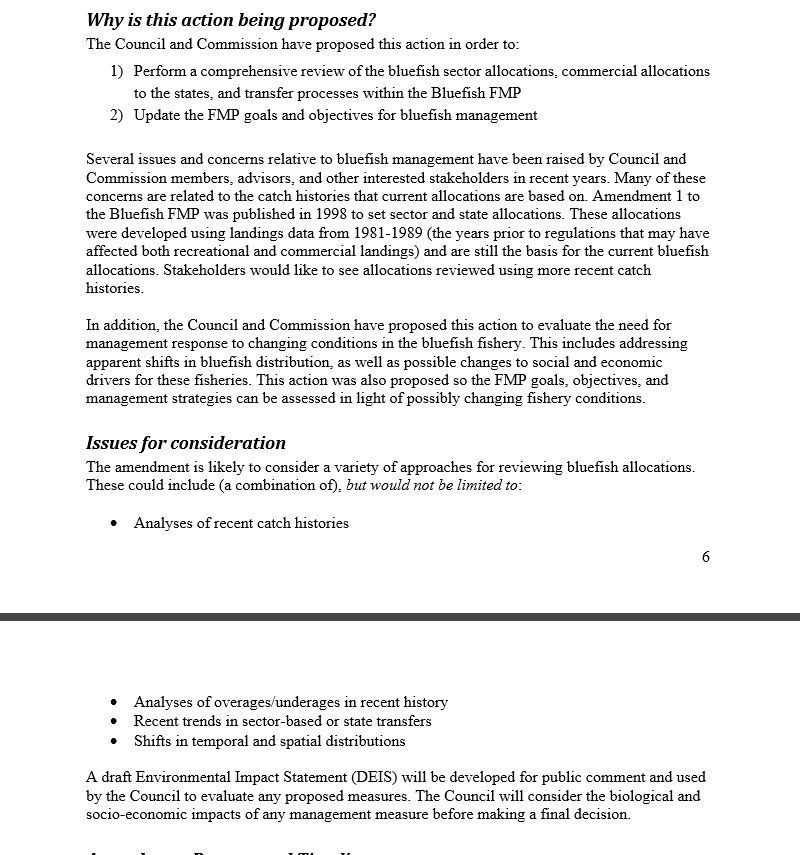 Make your written comments here-


Edited by Rick - 18 June 2018 at 12:03pm