Rick wrote:



The NC Fisheries Association and Jerry Schill are hard at work spinning a story against the North Carolina Wildlife Federation Nursery Trawl Petition for Rule Making.


As can be expected, the commercial shrimp trawling industry wants status quo and no part of new rules designed to protect important unclassified nursery areas and the 500-million juveniles of 60+ different important finfish and forge species that are dying annually as shrimp trawl bycatch.

Why should they? NC has been managing our estuaries for the "King Shrimp" for over forty years.

"Shrimp was king, shrimp still is king," Connell Purvis, former DMF director, July30, 2013

The commercial industry is intent upon continuing to manage our public trust resources only for their personal gain. The NCFA has no qualms about continuing to disenfranchise pro-resource citizens and recreational anglers who support rule changes designed to revive our depleted fisheries, goals that serve all of NC's citizens and not just ones who fish for profit.

Schill recently sent a letter to the advisory committees that will be taking public comment regarding the Petition for Rulemaking filed by the NCWF. The NCFA has several active posts on Facebook concerning the petition.

Below is a paragraph from the NCFA's Facebook page-

It is true though that North Carolina is the only state on the east coast that has the ecological capacity to allow shrimp trawling in its sounds. To try and compare NC to any other state based on fishing regulations as does this petition; however, follows no form of the scientific method. The NCDMF has spent decades sampling and monitoring these specific waters to ensure that areas open to trawling do not put stocks in jeopardy. They have been the only state to develop formal classifications for primary nursery areas for estuarine species. These classifications prohibit certain fishing practices and provide habitat alteration protection from development and provide more stringent water quality protection standards. These criteria for designating nursery areas is very clearly based on data and analysis by NCDMF scientists, and the primarily anecdotal evidence outlined in the petition does not meet these criteria. One necessary component in establishing a nursery area is that species found in these waters must contribute to population disproportionately. Evidence of disproportional recruitment is not even offered in the petition, but this element is certainly relevant in the Pamlico Sound where over 55% of shrimp trawling occurs. As outlined in multiple publications, high natural mortality primarily attributed to predation, severely limits production in this area precluding it from supporting disproportionate recruitment.

North Carolina's designated nursery areas are designed to protect Connell Purvis' shrimp fishery.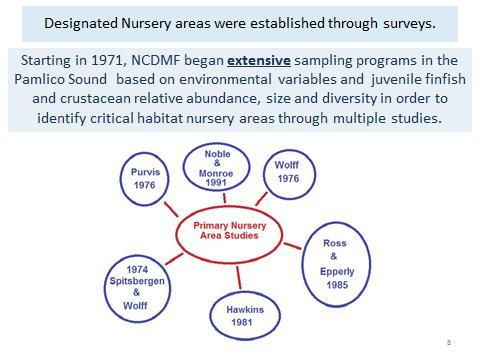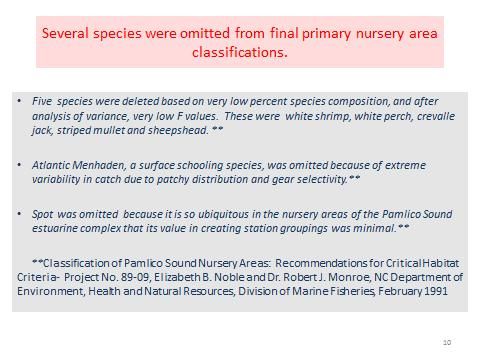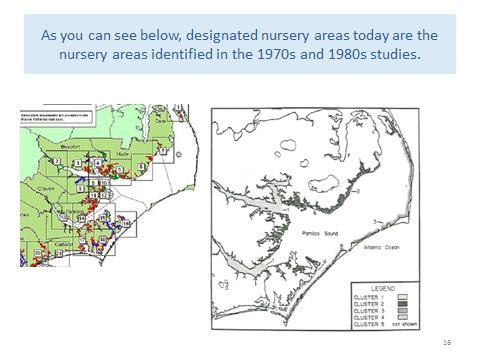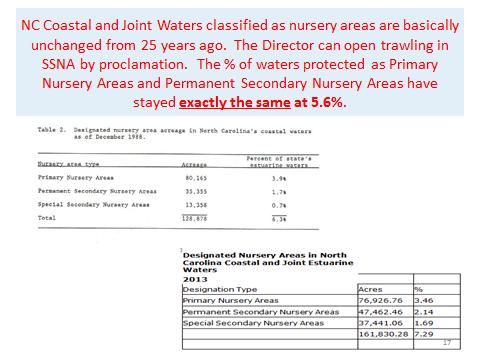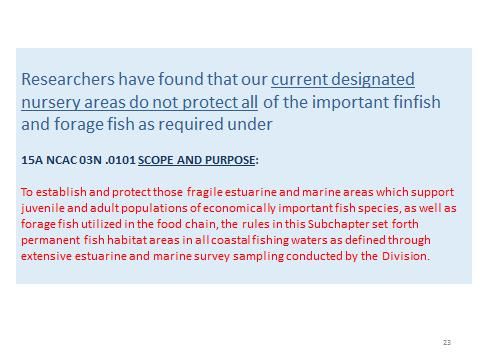 Even Jess Hawkins, former NCDMF Deputy Director (retired), who is Jerry Schill's and the NCFA's hired gun fighting the NCWF petition said-

"Juvenile (weakfish) were captured only in the northern and central region, with tributaries of Pamlico Sound serving as the major nursery areas."

Connell Purvis started NC's nursery area studies in the 1970s. To protect his "king shrimp" fishery, all waters with a depth greater than 6.5 feet were eliminated for consideration as a designated nursery area.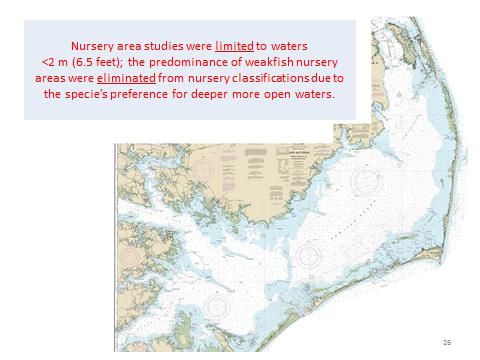 The ASMFC management plan for identifying weakfish nursery areas is shown in the following objective-
The ASMFC management plan for weakfish has the following goals-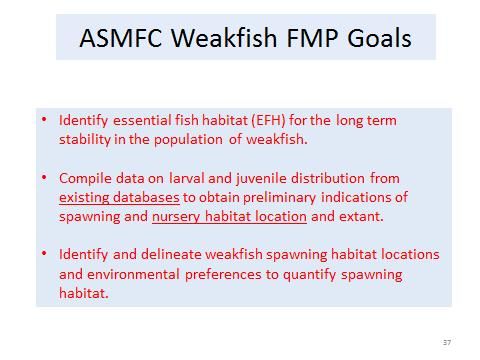 For over three years I have been working on a project to identify weakfish nursery areas in the Pamlico Sound.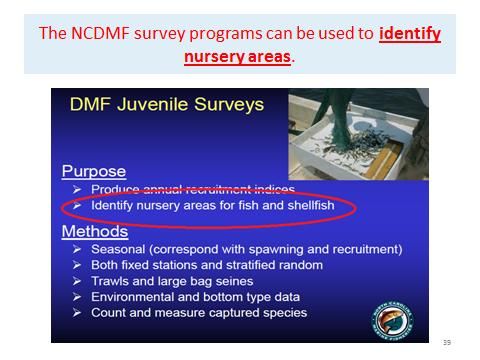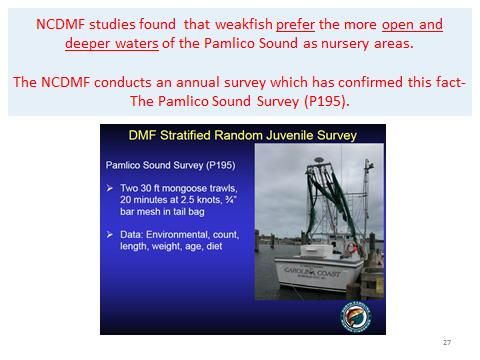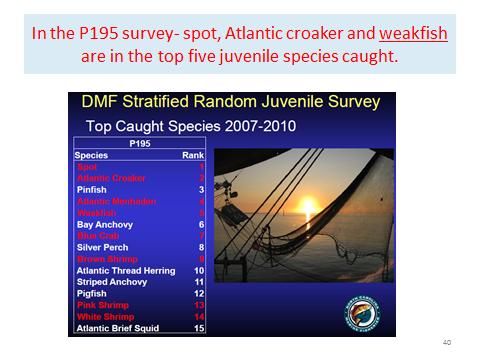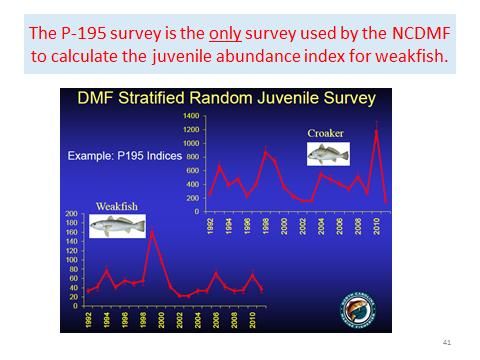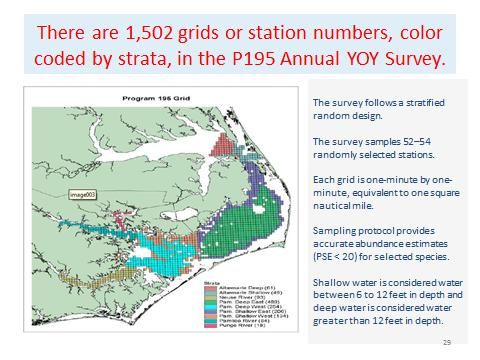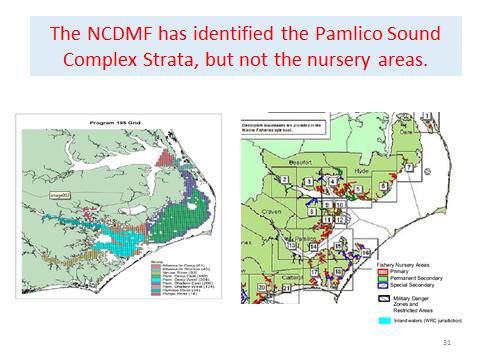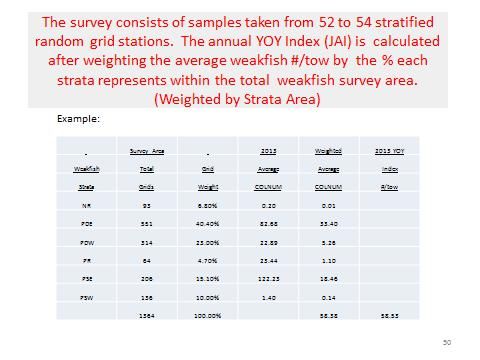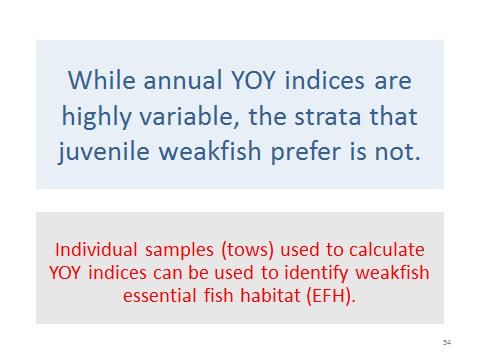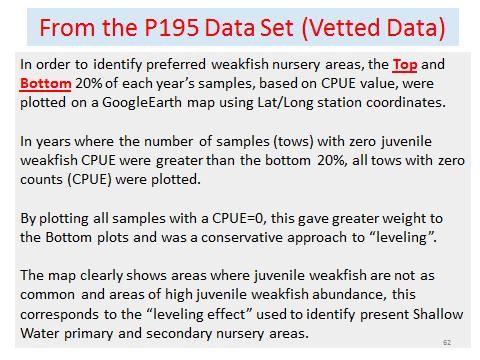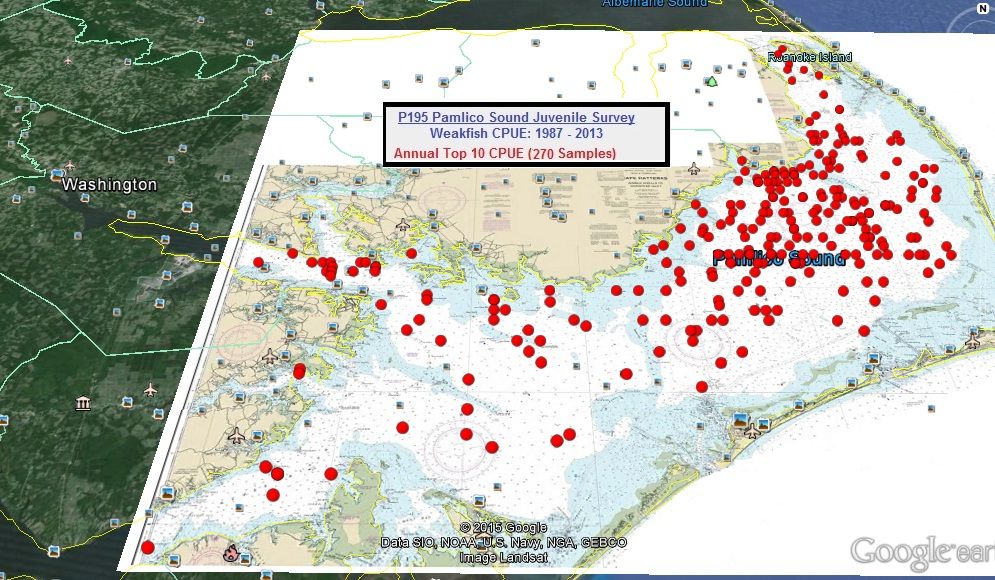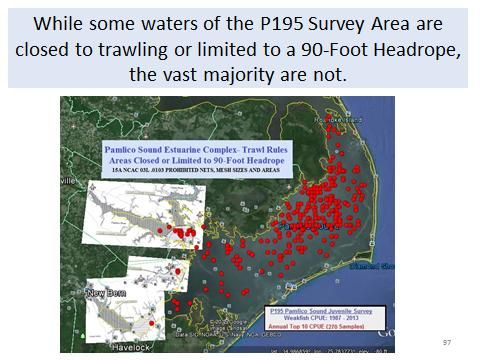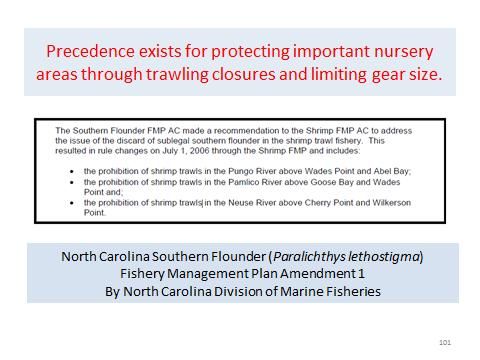 As both a primary and secondary nursery area to weakfish, all of the P195 Survey Area should be permanently closed to trawling.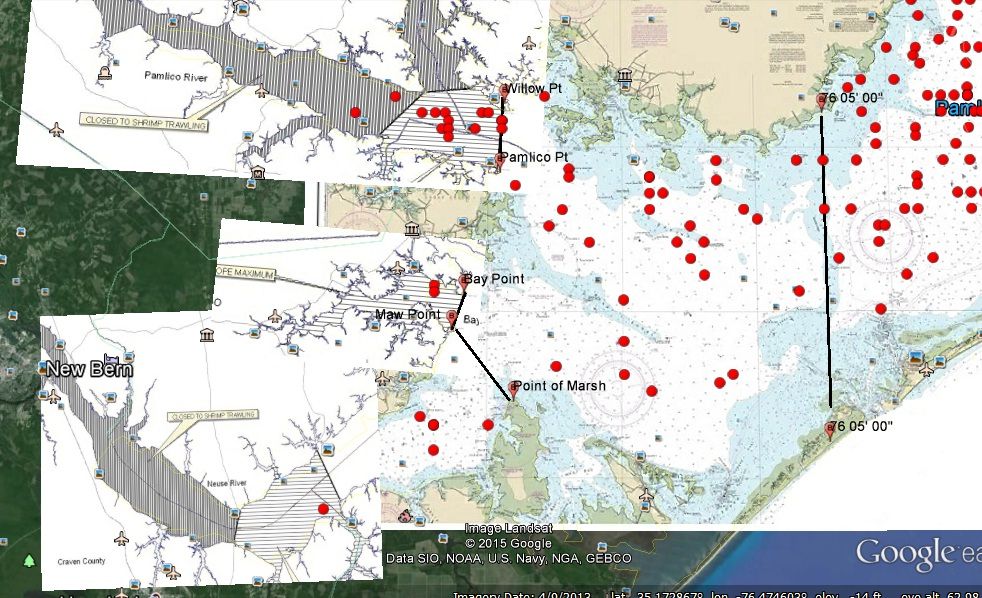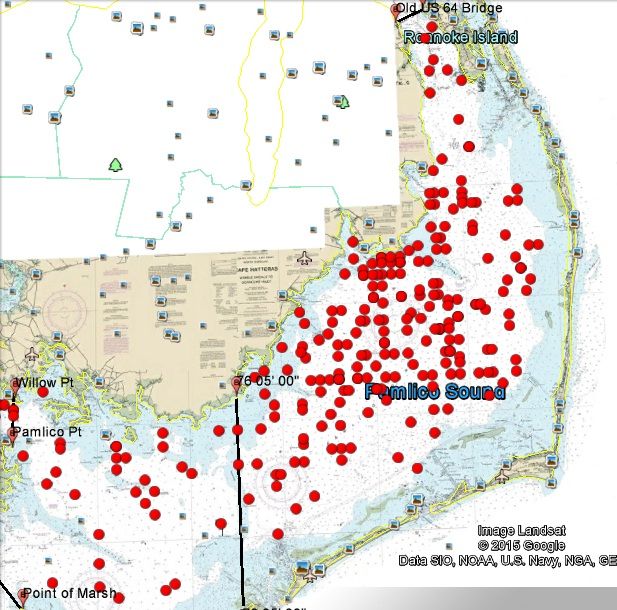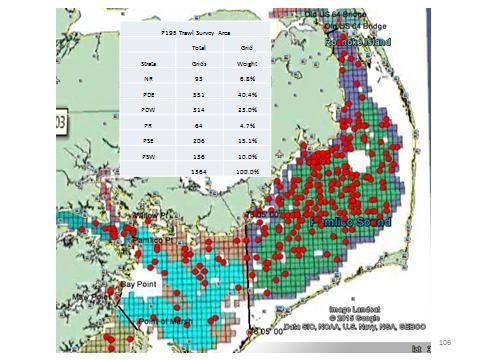 The following slides and discussion show the amount of trawl effort that one boat creates during one shrimp trawling season in what is truly the epicenter of North Carolina's weakfish nursery areas.
The Boat

The Capt Ralph owned by James Ralph Craddock (Roanoke Fish Co.) and the Bald Eagle 2 owned by Fisherman's Wharf Filet, Inc of Hampton, Va are the only two shrimp trawlers actively running their AIS systems while trawling in the Pamlico Sound.

The Automatic Identification System (AIS) is an automatic tracking system used on ships and by vessel traffic services (VTS) for identifying and locating vessels by electronically exchanging data with other nearby ships, AIS base stations, and satellites.

Many of the large shrimp boats fall under the Class B device for fishing vessels over 65 feet. The law says if you're required to have one, you're required to have it active 15 minutes prior to leaving the dock or anchorage.

My research shows that the large NC shrimp boats required to have AIS are in compliance, but are illegally turning the unit off while shrimping. Evidence suggests that they are doing so in order to prevent tracking for the purpose of measuring fishing effort as seen below.
Oceana has developed a program in conjunction with SkyTruth and Google called Global Fish Watch that uses AIS to identify and track fishing effort.

Using Global Fish Watch, I was able to track the F/V Capt. Ralph from July 10, 2016 until November 9th, 2016 when the vessel stopped fishing in the Pamlico Sound and moved to the ocean off Hatteras to continue shrimping.
Below is the slide of my analysis of the NCDMF P195 trawl data conservatively identifying the weakfish nursery areas by plotting only the top 10 (20%) of annual samples for CPUE.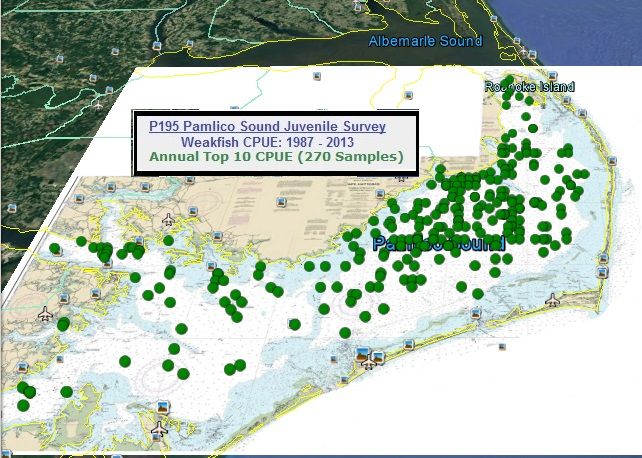 Below is a composite overlay of the two slides, Capt. Ralph's trawl effort and the weakfish nursery areas.

There is no doubt that the NCDMF and NCMFC have failed to protect weakfish nursery areas.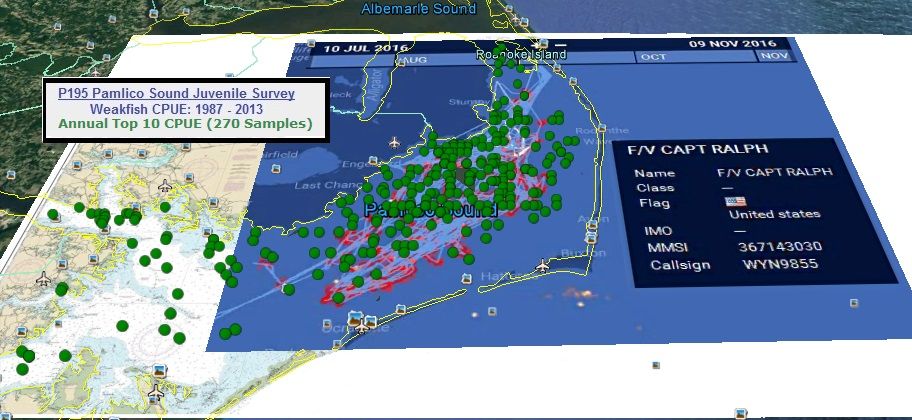 NC is allowing trawling in the primary and/or secondary nursery areas for weakfish. These are undesignated nursery areas that need protecting.


Weakfish is only one specie of many that has a stock status listed as concern or depleted. Spot and Atlantic croaker are the #1 and #2 species landed in the P195 trawl survey. Spot was so ubiquitous in the Pamlico Sound thirty years ago that it was eliminated as a target specie for nursery classification. Today, spot stocks are listed as concern and recent harvest has been at historical lows as is the Atlantic croaker stock. Southern flounder is listed by default
as concern

(no current stock assessment), but is truly depleted. Summer flounder is listed as concern. Blue crab is listed as concern with current landings below historic levels with both decreased abundance and adult recruitment.

Please support sustainable fisheries management by supporting the NC Wildlife Federation's Petition for Rule Making. Write the advisory committees and the NCMFC giving your public comment. Attend the January 17th meeting in New Bern. Attend the February MFC meeting.